I had the pleasure of reviewing Betty Collier's book, Angel in My Room, and was absolutely pleased with the outcome of that book. She truly touched the heart from the start and kept it locked in a gripping manner until the end. So, taking the chance on another of her books, I dived right in with a smile on my face, and hope in my heart. Once again, my heart was filled and the message was extremely moving.

This book is not your everyday read. It's far from it. It's a wonderfully amazing story of Ms. Collier's walk with God. It's her living testimony, her daily struggles, her daily acceptance that she is walking with her Father. Ms. Collier's testimony is told with exuberance and love, helping people to understand that there will be trials along the way, but having faith and hope in your heart will help you to over come any obstacle. From her ups and downs with her high school boyfriend, to marrying him, and living life as a wife, to work and pregnancy and family, Ms. Collier shares tragedies, and milestones.

I loved the way Ms. Collier presented the book in a heart felt way. She doesn't preach, or talk down to her readers. She shares with them. She helps them embrace their hope and faith in a new way. With humorous moments here and there, Ms. Collier keeps the book engaging for her readers, as she tells her story.

I definitely recommend that you take a moment or two of your time and grab a copy of this book. Though humorous at times, and a fast paced read, this is not a book that should be taken lightly. It's anything but that, and will keep your wheels turning and your heart filled. Amazing job, Ms. Collier! ~ Reviewed by Molly E. for Readers' Favorite

---
---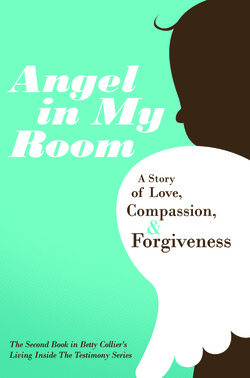 Click picture to visit "Angel in My Room" website
A soulful and uplifting book written by Betty Collier. This is the second book in Betty's Living Inside the Testimony Series. The year is 1980 and Lillie Hopkins has a miraculous encounter that forever changes her life on the day she gives birth to her son, Derrich. Her son suffers severe health issues and passes away just after delivery. Lillie falls into a deep, dark, gloomy, bottomless pit of agony and despair. She is broken and cries to God to take her too. God listens and as Lillie is dying, she has an out-of-body experience. God tells Lillie that her work is not done on earth yet. She returns and witnesses her son as an angel in her room. Through many grueling times of depression and torment, Lillie picks herself up and battles for God. In the end, she realizes what God's plan is for her and how she can come to help others with their pain.

Betty Collier has done an amazing job of writing Lillie's story into a marvelous and inspiring book. The chapters flow nicely and once I began reading this book, I found myself so intertwined with it that I couldn't put it down. I was truly moved and it tugged at my heart greatly. I also thank Lillie for sharing her story because it will inspire so many people who have not had the courage to forgive themselves even though God has forgiven them so easily. Through one woman's journey, we feel her heartache and pain, her personal sacrifice, and her devotion to God. This is such a moving story and so many of us can relate to Lillie's pain and suffering. Not all people are able to move past the agony and despair, but this book will change people's lives forever. I highly recommend this story for all people in all walks of life and all religions. Lillie's story will touch your hearts forever! Well done Betty Collier. ~ Reviewed by Rita V for Readers' Favorite
---
---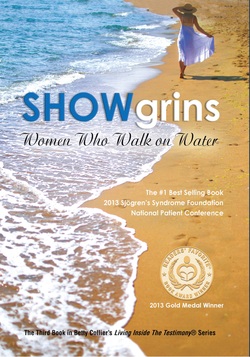 Click picture to visit "SHOWgrins" website
SHOWgrins is a touching tale of author Betty Collier's journey to find out if she has Sjogren's syndrome. Along her quest to find answers for the symptoms afflicting her, she looks for inspiration from other women who have battled the disease. Against the backdrop of tennis star Venus Williams' public announcement that she has the disease, Betty Collier takes a look at the lives of five women who have all managed to live amidst the difficulties caused by Sjogren's syndrome.

The book is a touching and inspiring collection of tales that give readers an idea of what Sjogren's syndrome is and the impact it can have on those who have it. The author, Venus Williams and the five women featured in this book have all had their lives changed due to an encounter with his strange medical condition. The book is easy to read, with a flowing narrative that fully shows the author's storytelling abilities. The stories themselves are emotional roller coasters. As a reader, I felt the women's pain, their frustrations, their hopes and their determination to push against the pressure Sjogren's syndrome has put in their lives. All of their stories are well-told by the author, portraying their life before their diagnosis, as well as the challenges they faced when they knew they had the condition. Their bravery and the love and support of their family against the medical, social and mental stress Sjogren's syndrome can bring are inspiring and heartwarming. Estrella, Judy, Lynn, Paula and Cathy have all managed to make the best of their situation, and have dedicated their lives to promoting awareness of this condition. Their stories, together with the author's own journey, inspire not only those with Sjogren's syndrome, but everyone who has had life-changing challenges and problems. ~ Reviewed by Eduardo Aduna for Readers' Favorite
---
---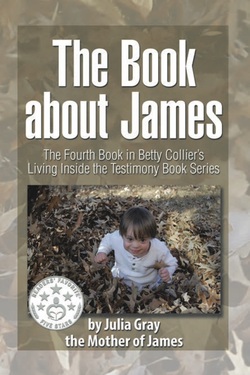 In her work, The Book About James, Julia Gray shares her thoughts on raising her son born with Down Syndrome. The book is broken into twenty-one "articles" – chapters that can be read as stand alones or in conjunction with the rest of the book (just like a magazine article). In each article, Julia Gray deals with a particular issue or experience: her reaction to James' birth, schooling James, trusting in God when things are rough, side-effects of Down Syndrome, etc. Julia is honest about how her feelings were and what they are now. For those who are just starting to walk this road, this book will offer encouragement and hope. For all others, it's a peek into the ups and downs of life with Down Syndrome and God's grace for it all.

Wow! Julia Gray's The Book About James blessed me so much! I confess, I have always had this little fear in the back of my head that I would have a "forever child" – a kid with Down Syndrome or something like it. This is funny since as a kid I had friends who had DS and I loved to be around them. Who doesn't enjoy a forty-year-old who plays like someone who is six? But I was afraid of having one myself. Julia Gray came face-to-face with her own fears when James was born: what would others think of her? Of him? How would her other children be affected? I really appreciated Julia's honesty. She is willing, not only to share her joy in James NOW, but the feelings of fear she had THEN. I was encouraged that even if I do have a forever child one day, DS can be a blessing and not a burden.

Even though my two children are "normal", I still found much encouragement in this book as a mother: no matter what our kids do or don't accomplish, they are special just the way they are. And God gives us the grace to deal with everything – no matter how overwhelmingly big it seems to us. He really does work all things together for good and The Book About James shows us that. Beautifully written. Wonderful witty style. Well edited. Altogether highly recommended. Is there such a thing as a dozen stars? ~ Reviewed By Ashley Tetzlaff for Readers' Favorite

---
---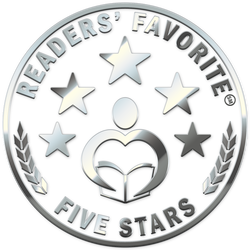 Click picture to read all reviews for each book
All of Betty's books received the maximum FIVE STAR rating from Readers' Favorite.

Readers' Favorite provides free book reviews and posts those reviews on their site, Barnes & Noble, Google Books, Facebook, Twitter, Google Plus and Pinterest. They are asked to review for such renowned authors as James Patterson, David Baldacci, and Stephanie Meyer, and are trusted by prominent publishers such as Penguin, Random House, Harper Collins, and Simon & Schuster. However, their primary goal is to review for new and self-published authors to help them get recognition for their work.

Betty is honored that several different reviewers at Readers' Favorite have reviewed her work, and she was given multiple 5-star reviews for each book.

---